Testimony Before the Board of Education: April 25, 2013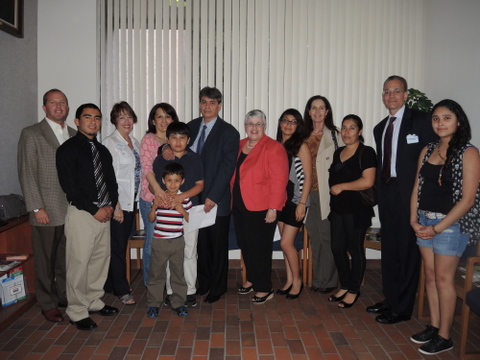 Conexiones Board members and supporters appeared before the Howard County Board of Education to advocate for Hispanic student achievement.
Ted Martinez
Good Evening,
My name is Ted Martinez and I serve on the Board of Conexiones, the non-profit organization that advocates for the academic success of Hispanic students in the Howard County Public School System.
I am joined this evening by Conexiones Board members, Hispanic students, families, and Hispanic Achievement Liaisons.
Why do I serve the Hispanic community?
After graduating from the Leadership Howard County Premier program, I realized I could act as a role model for Hispanic students in Howard County. I grew up in a household where Spanish was the primary language. Having achieved a level of personal success it is now my responsibility to help those who may not have the same opportunities I had.
My wife and I have two children who graduated from the Howard County Public School system. Next week our oldest daughter will become a college graduate. We would like all Hispanic students to have the same opportunities.
We at Conexiones value our partnership with the Howard County Public School System and thank you for the support to date.
As the fastest growing group in the Howard County Public School System, the performance of Hispanic students has a tremendous impact on our community and our schools. Neither can succeed if all of our students do not.
To build an environment of high achievement, we believe it is essential to create an environment of high academic expectations. To that end, we ask that you:
Identify and work with every student at risk of dropping out or not graduating.
Promote increased participation of Hispanic students in the gifted and talented program, and in advanced placement courses.
Allocate Hispanic Achievement Liaison positions on the basis of a staffing formula. I would like to recognize the presence of some of the liaisons here tonight and ask them to stand.
Why?
The at-risk students typically disengage well in advance of dropping out and are known to our school officials. Reaching out on an individual basis and re-engaging the student is critical to ensure they graduate and continue on their educational and career path.
A caring and committed school official alters a student's life. Encouraging, recommending, selecting and supporting a child in the Gifted and Talented and/or Advanced Placement classes is a concrete sign of the school official's belief in that student's ability.
The Hispanic Achievement Liaisons are critical to the effectiveness of the schools in their efforts to engage Hispanic students and their families. They work with the staff, students and families, to reduce socioeconomic, cultural, and language barriers.
Thank you
Daniela Sánchez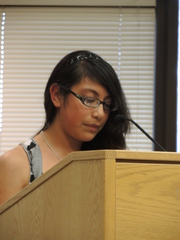 Good evening.
My name is Daniela Sánchez Reyes, and I am an 8th grader at Oakland Mills Middle School.
I came from Mexico with my mother when I was 3 years old. My father had come before. I have two younger brothers. The oldest one is a 3rd grader at Talbott Springs Elementary.
My mother graduated with the first class of the Parent Academy in Spanish. This was very useful because she learned to understand the educational system in the United States, and can help my brother and me to do well in school. Both my brother and I are good students.
I am here today to talk to you about Mrs. Teresa Norman, the Hispanic Achievement Liaison at my school, and everything she does for us.
My mother does not speak English, and she benefits from having somebody she can talk to at the school. Mrs. Norman calls my mother to keep her informed of everything that is going on with me, and at the school.
Mrs. Norman is always making sure that I am fine. She takes care of me, and keeps me motivated to work hard, so I can go to college. She also has an after school club for Hispanic students called Ritmo Latino. We do a lot of fun activities, and have an end-of-the-year picnic with other Hispanic Youth Clubs.
I did not take Spanish in middle school, and Mrs. Norman submitted my name to be tested, so I would not have to take Spanish 1 in 9th grade. I have been tested and was recommended for Spanish 3 Honors.
My family is very grateful to Mrs. Norman, and the other liaisons my brother and I have had at Stevens Forest Elementary and Talbott Springs Elementary.
We need more Hispanic Achievement Liaisons. I ask you to please approve the positions in the budget. This way more students can benefit from their hard work.
Thank you for your time.
Francisco Ramírez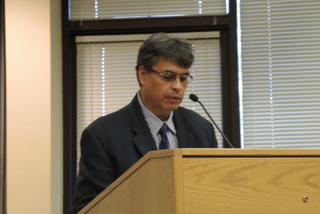 Good evening.
My name is Francisco Ramírez. I came with my family to the United States from Mexico in 2009.
My wife, Monica, and I have two sons. Javier is a 6th grader at Mayfield Woods Middle School, and Miguel attends Kindergarten at Phelps Luck Elementary.
My wife graduated from the Parent Academy in Spanish in 2010, and I will be graduating on May 18th. The program has been very helpful to us because it teaches how the school system works in the United States. It emphasizes the importance of a routine at home, communication with the school, and ways in we can advocate for our children.
Both our sons are doing very well at school. Javier takes GT Math, and plays the violin.
We are very lucky to live in Howard County, where our children have access to an excellent education, and the Hispanic Achievement Program has been a great asset to us. Since we arrived, there has been a Hispanic Achievement Liaison at Phelps Luck Elementary, who has guided us to become better partners in our children's education.
When the liaison was moved to another school last year, we were concerned. But the new liaison, Mrs. Ana García-Hedges, is also doing an excellent a job. She is in constant contact with us. She has taught my wife how to use computer programs that can help Miguel improve his reading, writing, and math skills.
My wife is also part of a group of Hispanic volunteers that helps several teachers to prepare instructional materials, and another group of Hispanic parents that attend PTA meetings. Mrs. García-Hedges has been key in the formation of both groups.
Unfortunately, there is no Hispanic Achievement Liaison at our middle school.
My wife does not speak English, and it is very difficult for her to communicate with the school, and participate in school activities. We attend parent-teacher conferences but we are not as connected as we would like to be. Fortunately, we can call Mrs. Elisa Montalvo when we need some guidance.
I ask you to please approve the liaison positions in the budget. The Hispanic community needs a liaison in more schools. Please provide us with the tools to help our biggest treasure, our kids, the future of the country.
Thank you very much.