¡Bienvenidos! Welcome!
We wish all HCPSS families a happy start to the 2020-21 school year!!
Les deseamos a todas las familias HCPSS un feliz comienzo del año escolar 2020-21!!
------------
Conexiones Stands with the Black Lives Matter Movement
On May 25th, George Floyd died as he pleaded, "I can't breathe." By the next morning millions had seen the disturbing video.

Since then, millions more have taken to the streets to protest the senseless and cruel death of George Floyd. Peaceful marches all over this country, in fact the world, have but one galvanizing message - redress Social Injustice, more specifically, police brutality, police racism, and the lack of police accountability. The demonstrations have also addressed the injustices emanating from a history of racism and institutionalized inequality, as well as the glorification of a rebellion founded upon the preservation of chattel slavery.


We stand with the peaceful efforts, demonstrations, and the mission of Black Lives Matter and other organizations expressing their grievances against systematically practiced injustices and treatment that impede our access to equal and equitable social justice regardless of race, ethnicity, sexual and gender identity, ability, immigration and socio-economic status.
Conexiones Executive Board
--------------
Congratulations to the sixty-three Hispanic/Latinx students recognized this year with a Conexiones 2020 academic achievement award!
¡Felicidades a los sesenta y tres estudiantes latinos reconocidos este año con un premio de Conexiones por logro académico!
Please see a recording of the virtual awards here. Vea una grabación de los premios virtuales aquí.
County Executive Dr. Calvin Ball also congratulates our students via video message.
Ejecutivo del Condado, Dr. Calvin Ball, también felicito a nuestros estudiantes a través de un mensaje de video.
In addition, Members of the Board of Education and HCPSS principals send their sincere congratulations! See their messages on our Programs page.
Además, los miembros de la Junta de Educación y los directores de HCPSS envían sus sinceras felicitaciones! Vea sus mensajes en nuestra página de Programas.
The Annual Awards Convocation has always been a time to celebrate the accomplishments of our graduating seniors, the support of their families, and to bring the Latinx community together, along with HCPSS administration, the BoE, and local and state government officials. Even though an in-person celebration will not take place this year, the accomplishments of our Latinx students will not go unnoticed nor unrecognized. Conexiones will commend sixty-three talented seniors who applied for our award via a virtual ceremony and with a mailed certificate and award check.
La Convocatoria de Premios Anuales siempre ha sido un momento para celebrar los logros de nuestros estudiantes de último año graduados, el apoyo de sus familias y para reunir a la comunidad latina, junto con la administración de HCPSS, el BoE y funcionarios del gobierno local y estatal. Aunque esta noche en persona no tendrá lugar este año, los logros de nuestros estudiantes latinos no pasarán desapercibidos y serán reconocidos. Conexiones elogiará a sesenta y tres estudiantes talentosos que se postularon a través de una ceremonia virtual y con un certificado por correo y un cheque de premio.
---

READ MORE ABOUT THE PLAN HERE!
---
Please see here Spanish translations of updates posted on the HCPSS website related to COVID-19 closures, continuity of learning, and other important topics.
Información sobre COVID-19 y el Sistema de Escuelas Públicas del Condado de Howard (HCPSS).
Información para apoyar a los estudiantes en casa:
Guías de HCPSS para estudiantes de pre-escolar hasta 12o grado y educacion especial. "Los guías proporcionan actividades de instrucción de contenido específico y del nivel de grado para ayudar a mantener a los estudiantes activos intelectualmente mientras están en casa cuando las escuelas están cerradas por mal tiempo o debido a otros eventos inesperados."
Guías: https://www.hcpss.org/health/coronavirus/continuity-learning/#es
---
Información general y recursos con respecto a COVID-19:
Para ayuda: findhelp.org
Departamento de Salud de Maryland (MDH, por sus siglas inglés) Información
---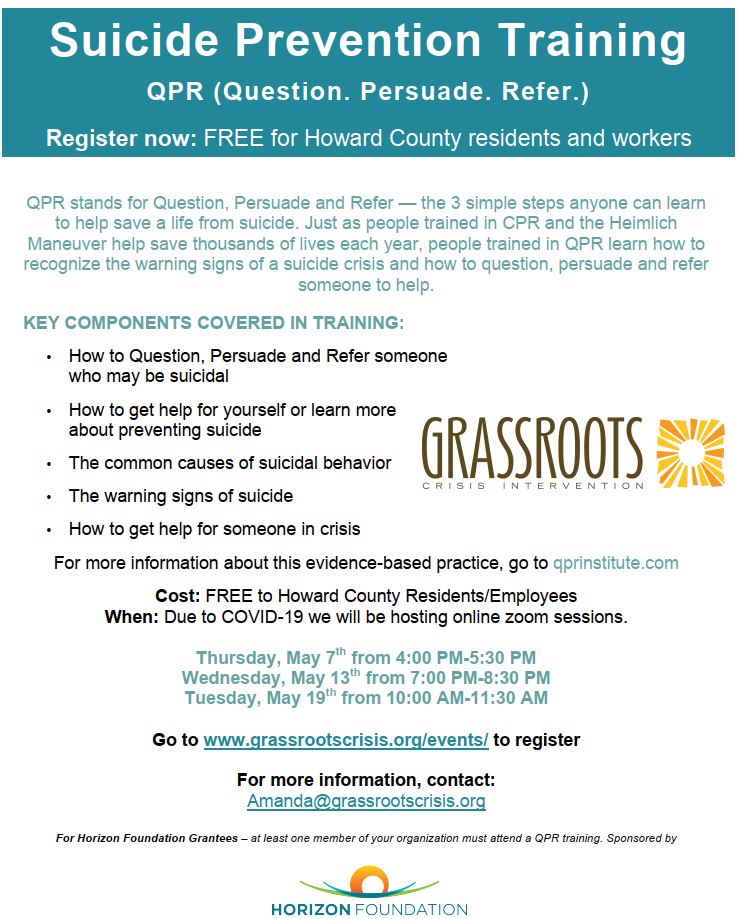 ---
In 2019-2020, Conexiones continues to engage in mental health outreach in the Latino community as a grantee of the the Horizon Foundation.
Explore the Horizon Foundation Emotional Support Human campaign!

There are great tips and resources on the site – https://supporthuman.org.
---
Maryland State Financial Aid Application (MSFAA) is here!
​Beginning with the 2019-2020 award year, the qualified children of undocumented immigrants who are eligible for in-state tuition under §15–106.8.of the MD Education Article,​ are also now eligible to apply for various State financial aid grants and scholarships. For more information, see here.
On October 7th, Howard County Council presented an Honorary Resolution for Hispanic Heritage month. Conexiones was present along with FIRN, Friends of Latin America, and Centennial High School's Latin American Council. We thank the Howard County Council for this recognition.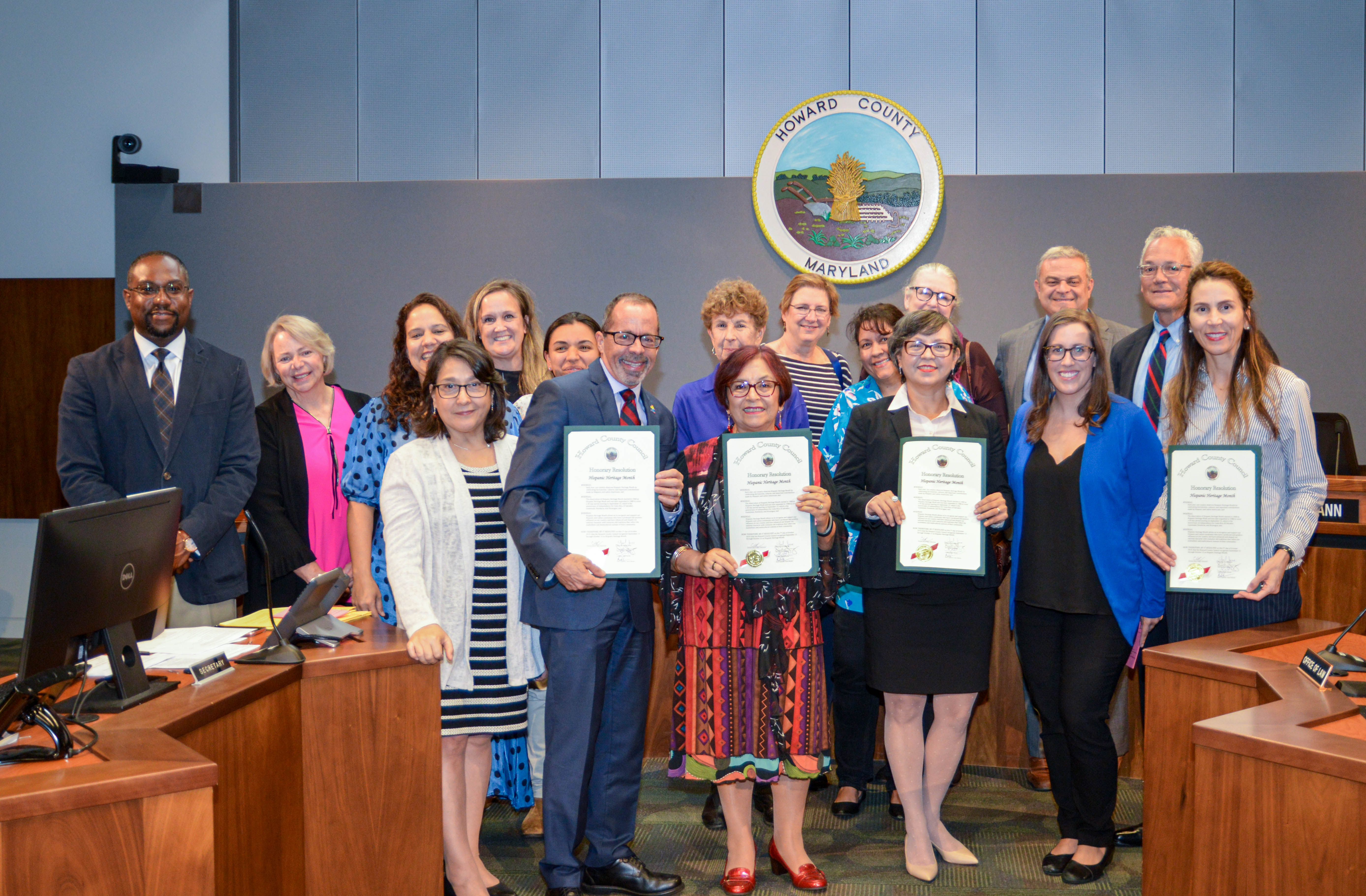 Conexiones held its16th Annual Awards Convocation on May 8th, 2019. It was a great event celebrating the talents of Latino students in Howard County!
Please see pictures of our event here.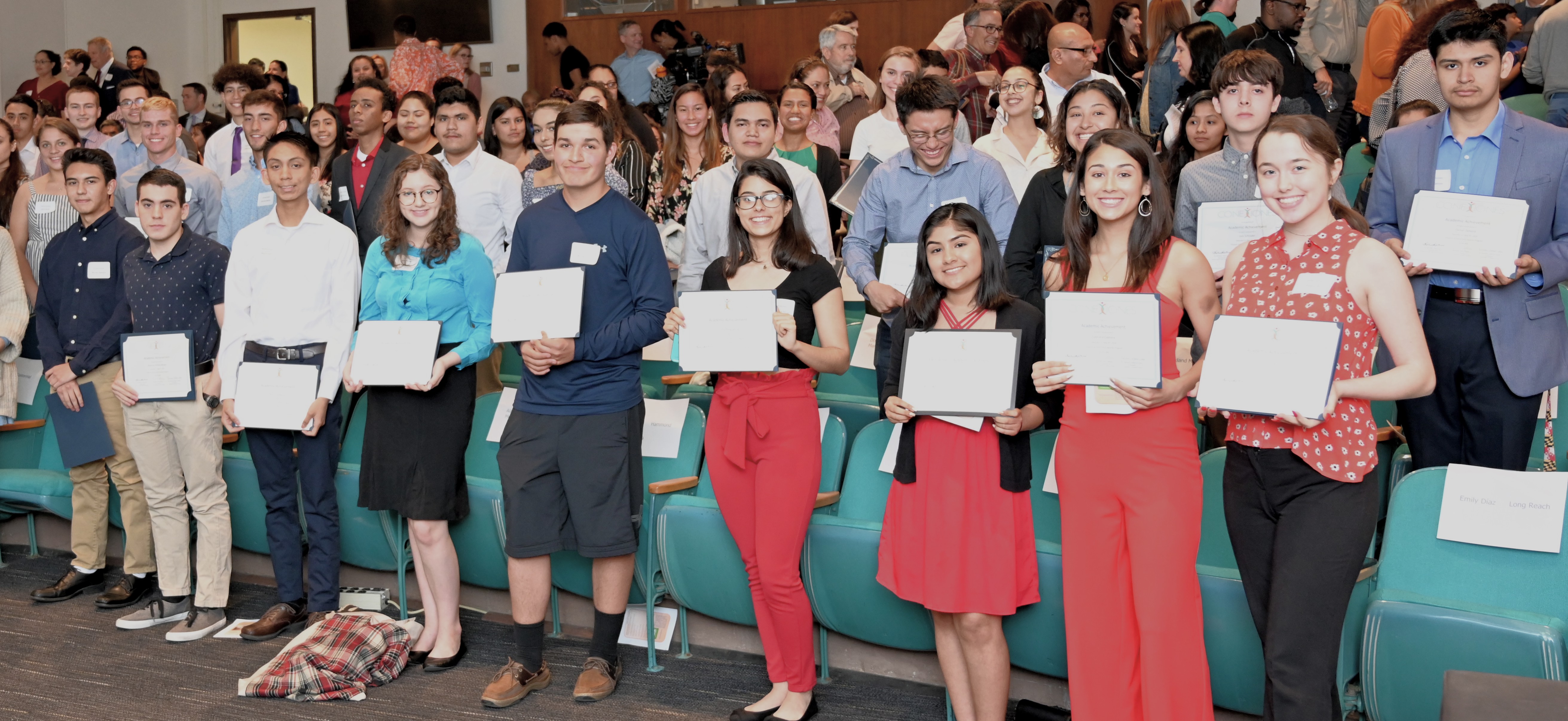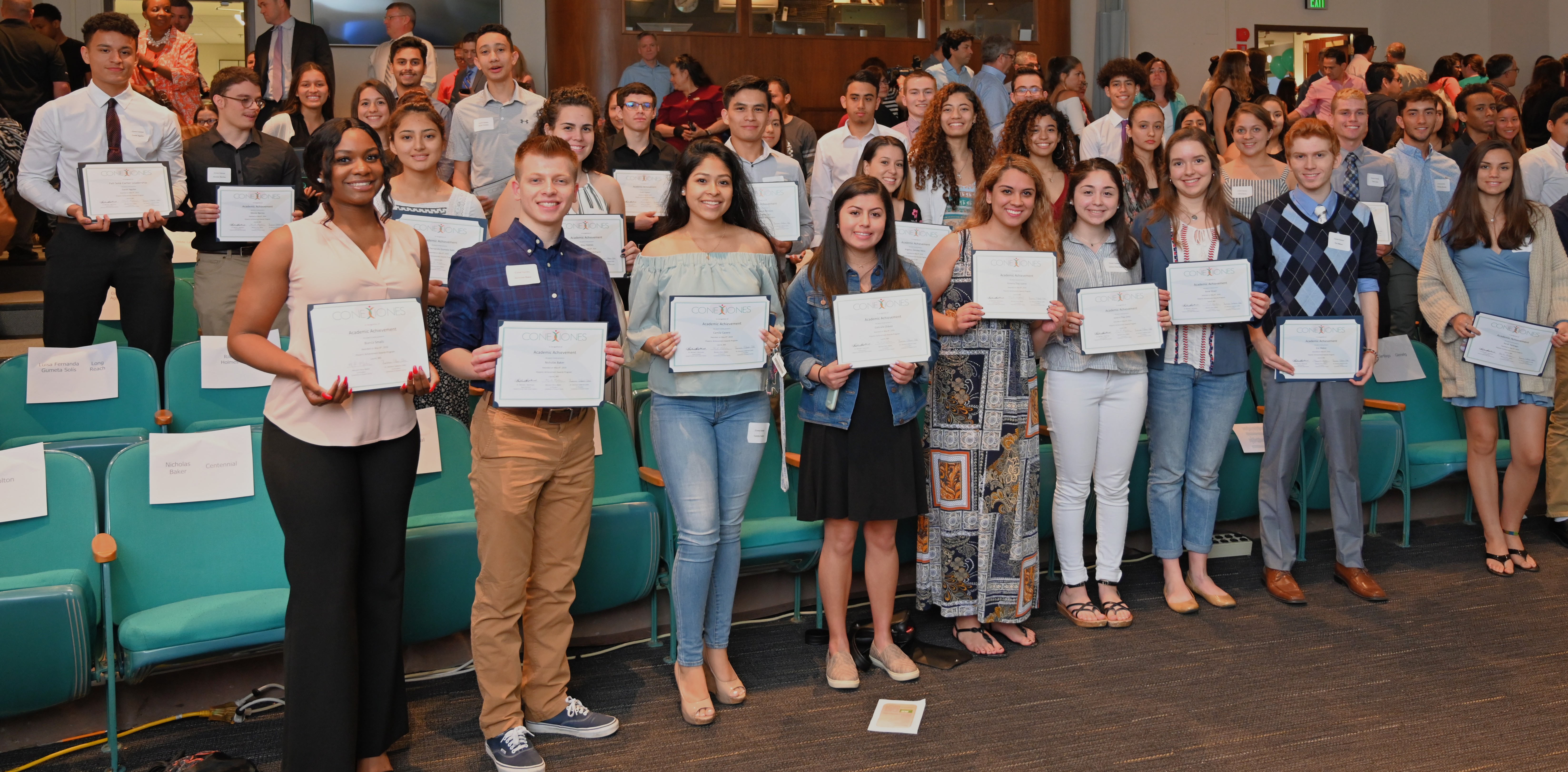 On January 31, 2019 Conexiones testified at the Board of Education budget hearing advocating for funding that supports Latino students. Part of our remarks included the following:
Hispanic students are the fastest growing group in the Howard County Public School System, and they also make up the largest percentage of students that receive FARMs. The performance of Hispanic students has a tremendous impact on our community and our schools. Neither can succeed if all of our students do not.
To build an environment of high achievement, we believe it is essential to create an environment of high academic expectations. To that end, we ask that you:
Identify and work with every student at risk of dropping out or not graduating.

Promote increased participation of Hispanic students in the gifted and talented program, and in advanced placement courses.

Approve the two Hispanic Achievement Liaison positions in the Superintendent's 2020 proposed budget. The Hispanic Achievement Liaisons are critical to the effectiveness of the schools in their efforts to engage Hispanic students and their families. They work with the staff, students, and families, to reduce socioeconomic, cultural, and language barriers.
Through your approval of this budget and future budgets, we ask that you allow staffing of the Hispanic Achievement Program to keep up with the growth of the Hispanic student population so that our Hispanic students have an equitable opportunity to succeed.
----------------
Past Conexiones Events
Excitement and learning with Governor Hogan at the Hispanic STEM Festival!
Wilde Lake Middle School, November 4th, 2017.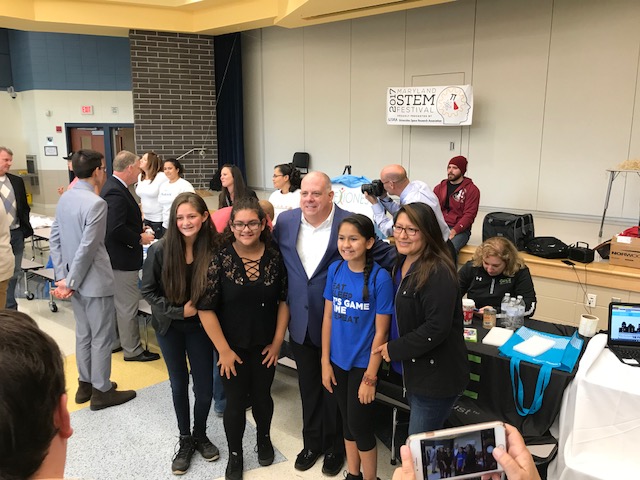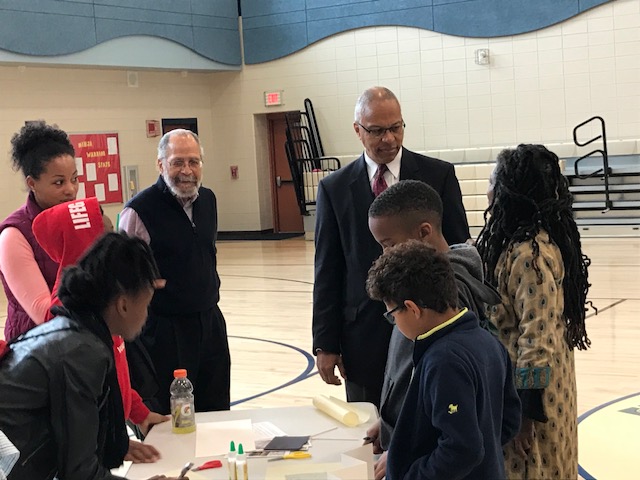 Conexiones Supports Centennial High School's Recognition of Latino Seniors
May 2017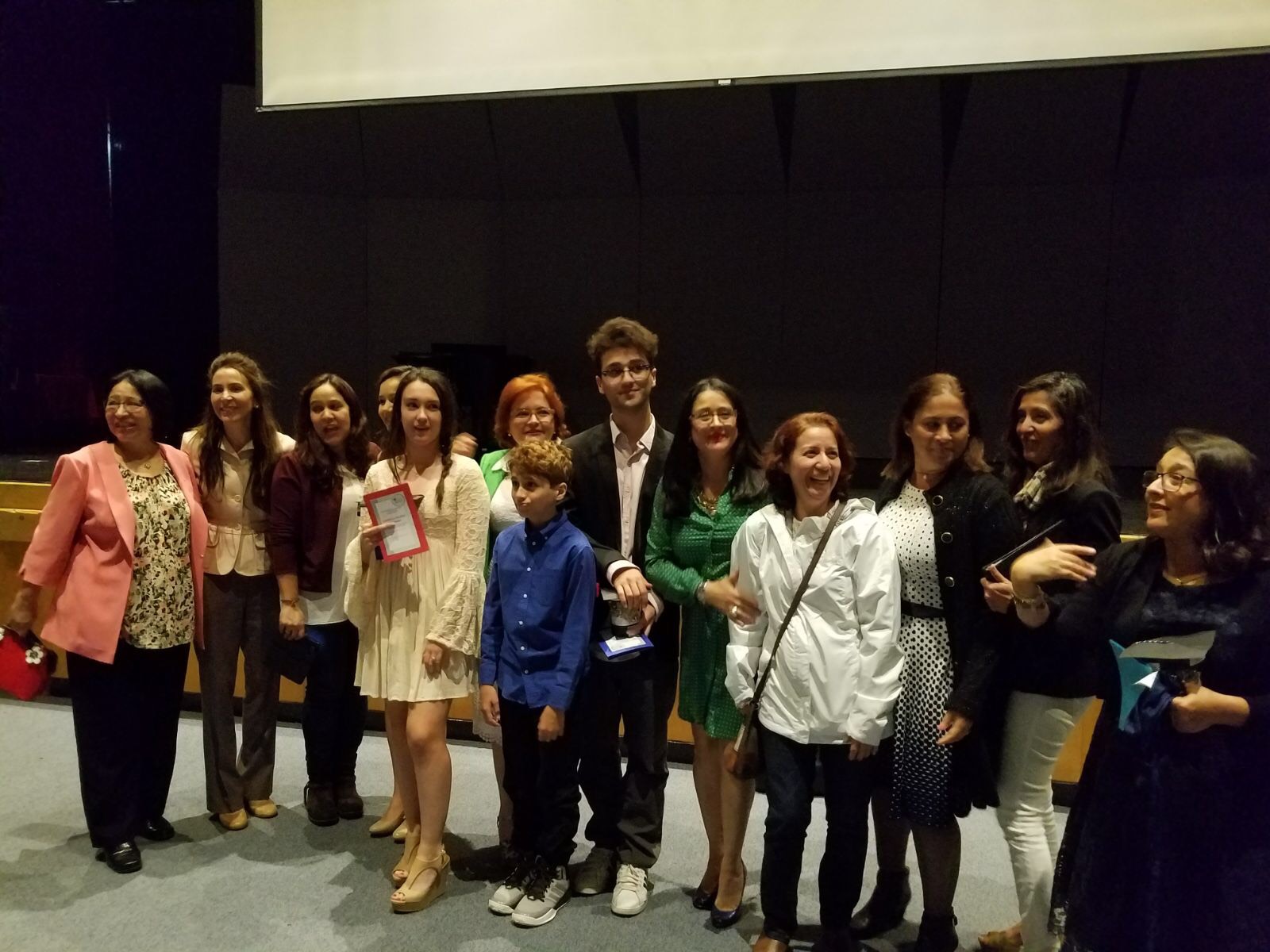 Past Conexiones Annual Achievement Awards
May 5, 2015, several hundred people gathered in the auditorium of Long Reach High School to celebrate the accomplishments of 85 soon-to-be high school graduates. These aren't just any students; they are 85 of Howard County's accomplished, intelligent driven Hispanics who have been recognized for their dedication to academics, serving the community and overcoming life obstacles. This year students from each of Howard County's 12 public schools were honored. We invite you to view pictures from the event including photos of all award winners.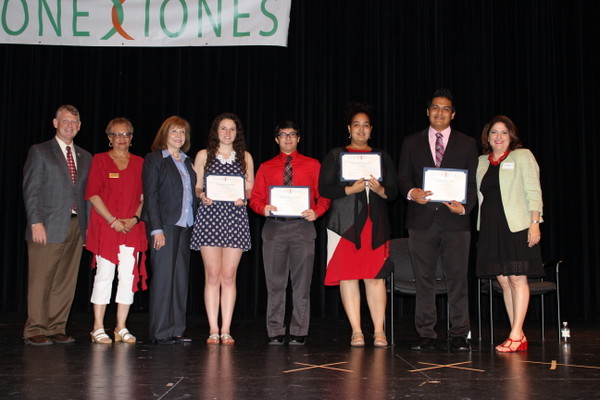 Hispanic Heritage Month Proclamation by Howard County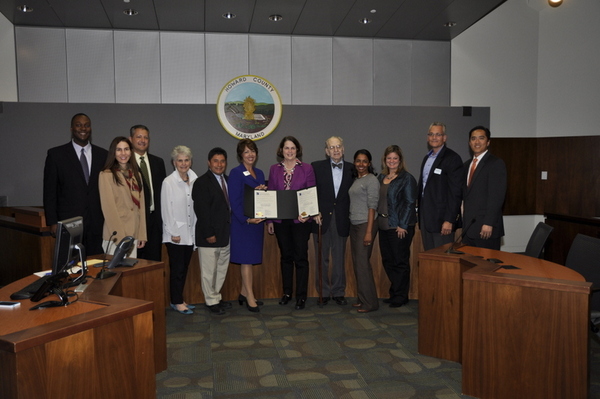 On October 6th 2014, the Howard County Council Presented a Proclamation to Conexiones in Celebration of Hispanic Heritage Month
Mission
The mission of CONEXIONES is:
To ensure that every Hispanic student in Howard County will complete high school and will continue in productive and satisfying directions.
To develop partnerships with schools, community organizations, businesses, community leaders and parents to provide comprehensive programs to advance the leadership capabilities and educational achievement of Howard County Hispanic youth.
If you believe in our mission, we encourage you to donate to Conexiones. We are a registered 501(c)(3) organization.

Advocacy for Hispanic Students in Howard County
CONEXIONES has been an advocate for changes in policies, practices and personnel of the Howard County Public School System, that improve the performance and educational outcomes for Hispanic students. These efforts directly resulted in the establishment of the Hispanic Achievement Specialist position within the HCPSS and the addition of Hispanic Achievement Liaisons in all schools with a substantial Hispanic population. This approach promises to serve as a national model.
Conexiones Advocacy with the Board of Education
On May 1, 2014, Conexiones met with the Board of Education and leadership of the Howard County Public School System. At the meeting, Feli Solá-Carter, President, David Rodriguez, Advocacy Chair, and Maryann Maher, Secretary, acknowledged the positive results in the increased graduation rates and decreased dropout rates for Hispanic students in the county. They stressed the need for continuing and intentional attention to participation of Hispanic students in Gifted and Talented and Advanced Placement classes in the STEM field, and appropriate staffing of the Hispanic Achievement Liaison positions commensurate with data based staffing decisions. Please see the Conexiones Presentation here.
Activities
We support our mission by providing assistance and support to encourage students to complete high school, consider higher education opportunities and to be successful in their career choices.
Student Clubs
In order to nurture a positive ethnic identity and strengthen a sense of belonging, we support Hispanic youth clubs organized within the Howard County Public School System (HCPSS). These clubs build community, celebrate Hispanic heritage, foster academic achievement, and provide leadership experiences.